Our Mission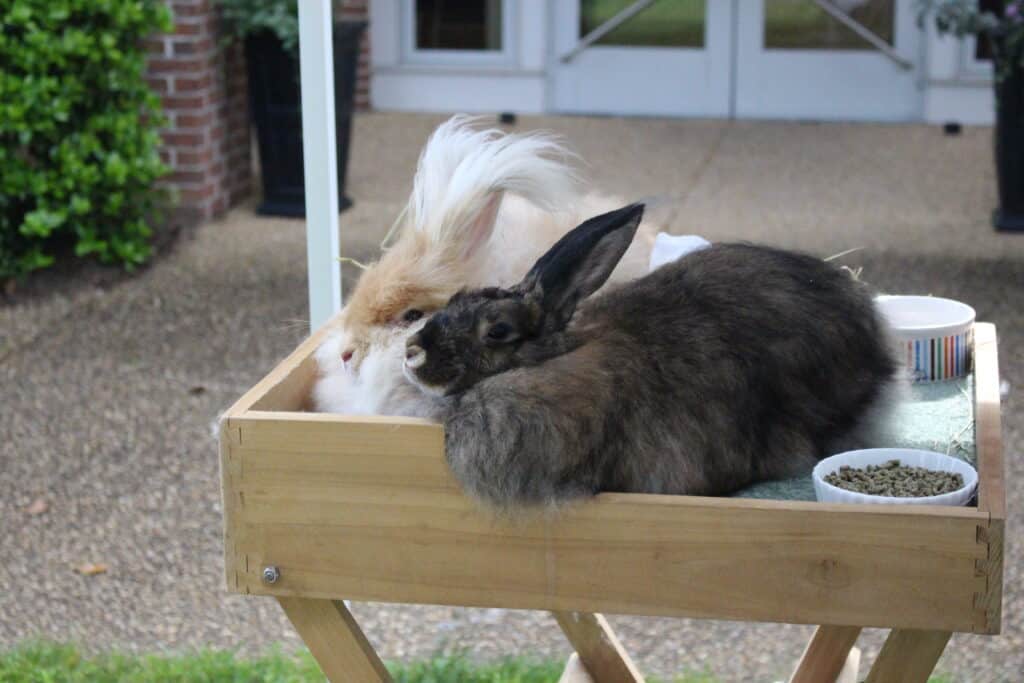 The Fuzzy EAR is a licensed English Angora Rabbitry owned & operated by Lorraine & Peter Hanson in Gloucester, VA.
We have been raising rabbits since 2014 and hope to continue into the future. Please browse our website and do let us know if you have any questions.
As the rabbitry has expanded, so has our variety of rabbits. In addition to our fiber rabbits (English, French, and Satin Angoras), we have added "non-fiber, strictly therapy" rabbits (French, American Fuzzy, and Holland lops).

Our dual mission is to share our love & knowledge of rabbits to the general public through outreach education & therapy and to share the ancient art of spinning and other fiber related skills and techniques to ensure the craft continues on through future generations.

We have taken our rabbits into schools, nursing homes, assisted living facilities, various festivals, farmers markets, stores (non-food) & even to work to share the beauty and relaxing calm that rabbits exude.

Thank you for visiting!
Lorraine & Pete and all the Rabbits
---
Therapy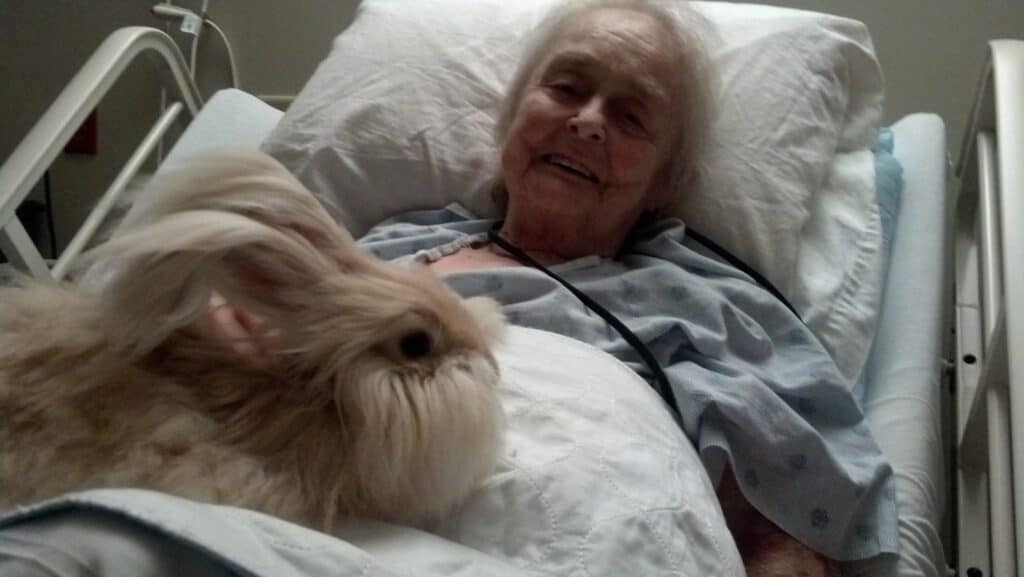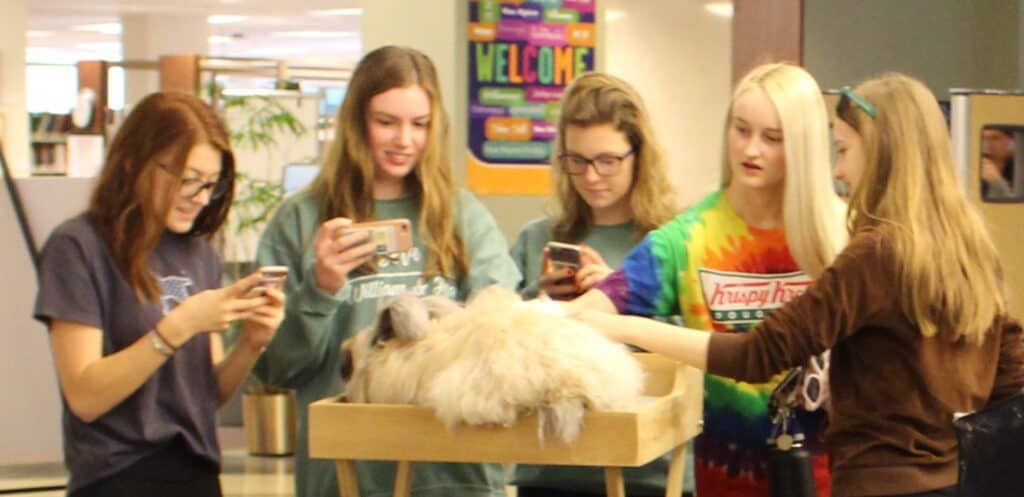 Shortly after we got our first rabbits, a dear friend of ours had an injury that put her in a nursing home for recovery. On our first visit Edie told us that she wanted to meet our rabbits. We had nothing set up for "therapy rabbits" (training, certification, or insurance) but Edie was more than just a close friend as she had become our family. On our next visit we put Honeysuckle in a large canvas bag and snuck her into Edie's room. From that point on we knew how much joy could be shared with our therapy rabbits. We have since joined Bunnies in Baskets so we are now trained, certified, and insured!
---
Encouraging the art of Spinning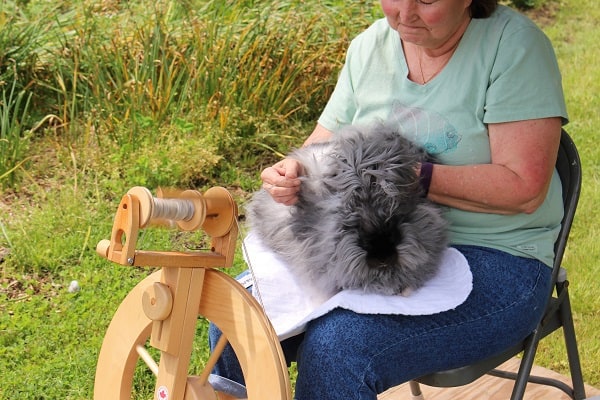 Spinning, put simply, is putting twist into fiber to create yarn. Once you start to learn how to spin, you can't help but fall in the "rabbit hole" leading to all the different methods of spinning, the history of spinning, the tools available for spinning and the fibers that can be spun. Next thing you know, you own a rabbitry!

Sadly, the art of spinning isn't as popular as it once was, there was a time when it was a family affair and young children (boys and girls) were expected to help. We feel that it is an art that is worth saving and a story worth telling!
In the days to come, we will be adding more information about our rabbits, history and care, spinning, the use of rabbits for therapy, and all the fiber paths one can follow once that first door is open.
If you have any ideas or suggestions on topics for discussion, please let us know via the 'contact' window.
---
Producing Luxury Fiber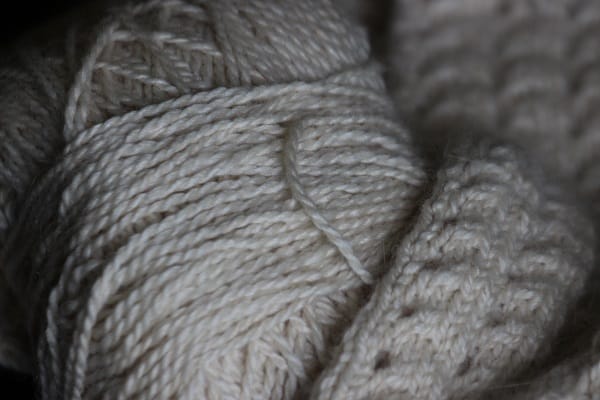 Along with being beautiful and good-natured, Angoras have been bred to produce one of the finest (softest) fibers known. We endeavor to make this fiber available for purchase in several forms (raw, rolags, blended, hand spun, and mill spun). We will eventually have fiber and rabbit related products available.
---
Rabbit Health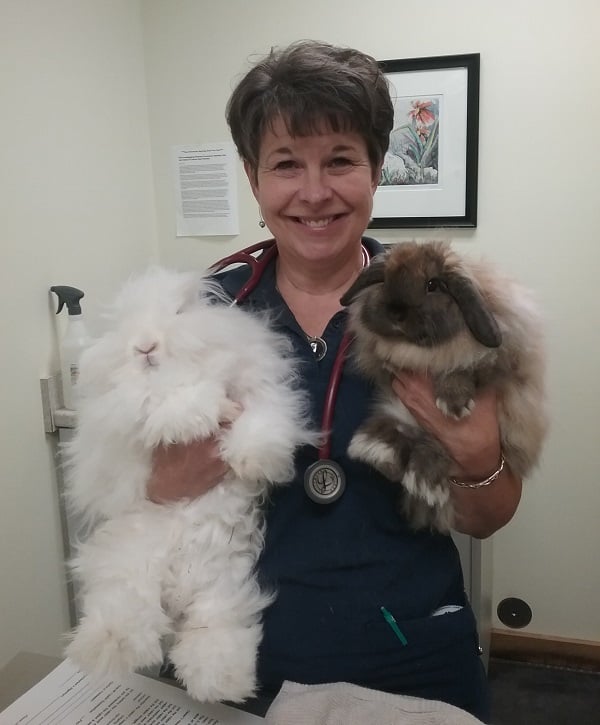 Angora Rabbits need a lot of attention and loving care to thrive. At the Fuzzy E.A.R. the health & welfare of our rabbits is top priority. Any event that is planned may be changed or canceled in the event we believe that our rabbit's health and/or well-being might be compromised.

When needed, our rabbits are seen by Dr. Bonnie Brown at Jolly Pond Veterinary Clinic in Williamsburg. As she once raised rabbits herself, she is very much in tune with disorders/diseases common to the domestic rabbit population.
---